$16/20 - Online Alberta Corporate Registry Searches
What is an Alberta Corporate Registry Search?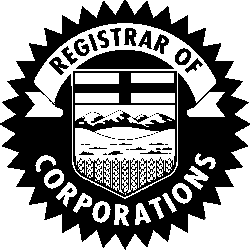 A corporate search is a process of obtaining information about a company or corporation from public records. The purpose of a corporate search can vary depending on the requester's needs, but some common reasons include due diligence for potential investments or partnerships, or verifying legal ownership and status.
During a corporate search, various documents and records may be reviewed, such as the company's articles of incorporation, annual returns, and other filings. These documents can provide valuable insights into the company's structure, history, and legal standing.
Corporate searches can be conducted by individuals, businesses, or government agencies, and the process can be performed online or in-person. It is important to note that the exact information available in a corporate search can vary depending on the type of company being searched.
A certified corporate search is the official record for these entities and will provide the current information found on their record.
Proceed to Search
How do I conduct an Alberta Corporate Registry Search?
Generally searches are performed by the name of the business or non-profit though you also have the option to search by the entity number (corporate access/registration number) if you have it available.
Prior to submitting your search you will be provided with a preliminary list of possible matches that you can choose from. If the preliminary search does not return the entity that you are looking for, please contact our office to conduct a manual search. In the event that there are multiple entities returned for the name you searched, you can place separate orders for each company you would like details on.
Why would I want to do an Alberta Corporate search?
There are many reasons that you may wish to do a search on a business or non-profit organization. A corporate search is the easiest way to get the most up-to-date information. A few reasons you may need this information could be:
You are considering doing business with another company and want to confirm ownership.
You need to serve a company with legal documents and need the official business address.
You want to confirm that the company is still in business.
Searches can be performed by:
Company Name - Select when you have the company name (including numbered companies)
Company Number - Select when you have the 'Corporate Access Number' or 'Registration Number' for the company.
What information is included when searching a corporation?
The following elements may be included:
Legal Entity Name
Corporate Access Number
Business Number
Legal Entity Status
Corporation Type
Registration Date
Legal Addresses

Registered address
Records address
Mailing addresses

Email Address
Primary Agent for Service
Directors
Shareholders / Owners
Articles of Incorporation
Filing History
What information is included when searching a partnership or trade name (sole proprietorship)?
The following elements may be included:
Current Business Name
Registration Number
Status of Business Name
Trade Name / Partnership Type
Commencement Date
Date of Registration
Type of Business
Current Declarant or Partners
Email Address
Filing History
Submitting Your Search
All Corporate Searches are submitted through our partner site, www.registrysearch.ca, which will open up in a new window.
To avoid requiring multiple searches, please confirm your search criteria before submitting your search. Results are returned immediately during government operating hours.
If you have any questions, please contact our office prior to placing your order.
Cost varies based on company being searched
Corporations ($20.00)
Societies ($16.00)
Trade Names ($16.00)
Partnerships ($16.00)