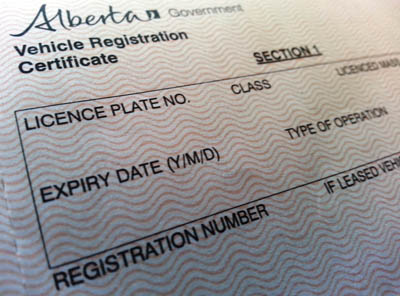 Why Do I Need a Vehicle Registration?
In Alberta, as in many other jurisdictions, vehicle registration is required by law to legally operate a motor vehicle on public roads. Your vehicle registration is your proof the vehicle is currently registered and permitted to be on the road.
As part of the vehicle registration process, you are required to obtain insurance coverage. This ensures that you are financially responsible for any damages or injuries caused by your vehicle in case of an accident.
As of 2021 licence plates in Alberta no longer require an month or expiry year sticker.
What if I Lost my Registration?
If you lose your vehicle registration in Alberta, it's essential to obtain a replacement as soon as possible to avoid potential fines or other legal issues.
How Do I Replace My Vehicle Registration?
If you have lost your registration, replacing it has never been so easy! Duplicate registrations are available in our office and are now available through MyAlberta eServices.
You will need an MyAlberta Digital ID to purchase online. Please follow the links above for more information or to register.
Duplicate registration certificates can be ordered online if:
Your registration is currently active.
Your vehicle is personally registered.
Your address has not changed on your file.
You do not have any outstanding fees or fines. If you have any outstanding fees or fines on your file, such as traffic tickets, parking fines, etc. you will need to clear these up before a registration replacement can be issued.
Once you have completed your order, the registration certificate will be available for download between 6am and 10pm.
Proceed